Published on

Feb 22nd 2022
4 robberies and a car crash today in the triangle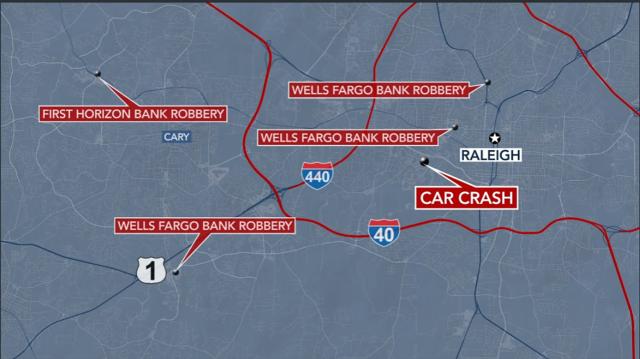 Looks like it's a busy day for law enforcement agencies in the triangle.
WRAL reported
4 robberies and a car crash that spanned several locations in Raleigh and Cary.
North Carolina State police warned students and staff that two men wanted for bank robbery were on the run after crashing into an apartment building at 700 Centennial Parkway in Raleigh, NC. A helicopter from the state Highway Patrol and K-9 officers on the ground participated in the search.
Overall, police responded to
4 robberies and 2 men are on the loose
. It was not immediately clear how much money the men got away with.
Here is the timeline of events:
Robbery at Wells Fargo bank at 2005 Clark Ave, Raleigh (around 9 AM)
Robbery at 2016 Fairview Road, Raleigh (2 miles from Location 1)
Robbery at First Horizon Bank, 9632 Chapel Hill Road (shortly before noon)
Robbery at Wells Fargo, 305 Colonades Way, Cary (around 1PM)
No injuries were reported as a result of the series of robberies and car crash.