Published on

Oct 28th 2022
Best spots to watch fall foliage in the Triangle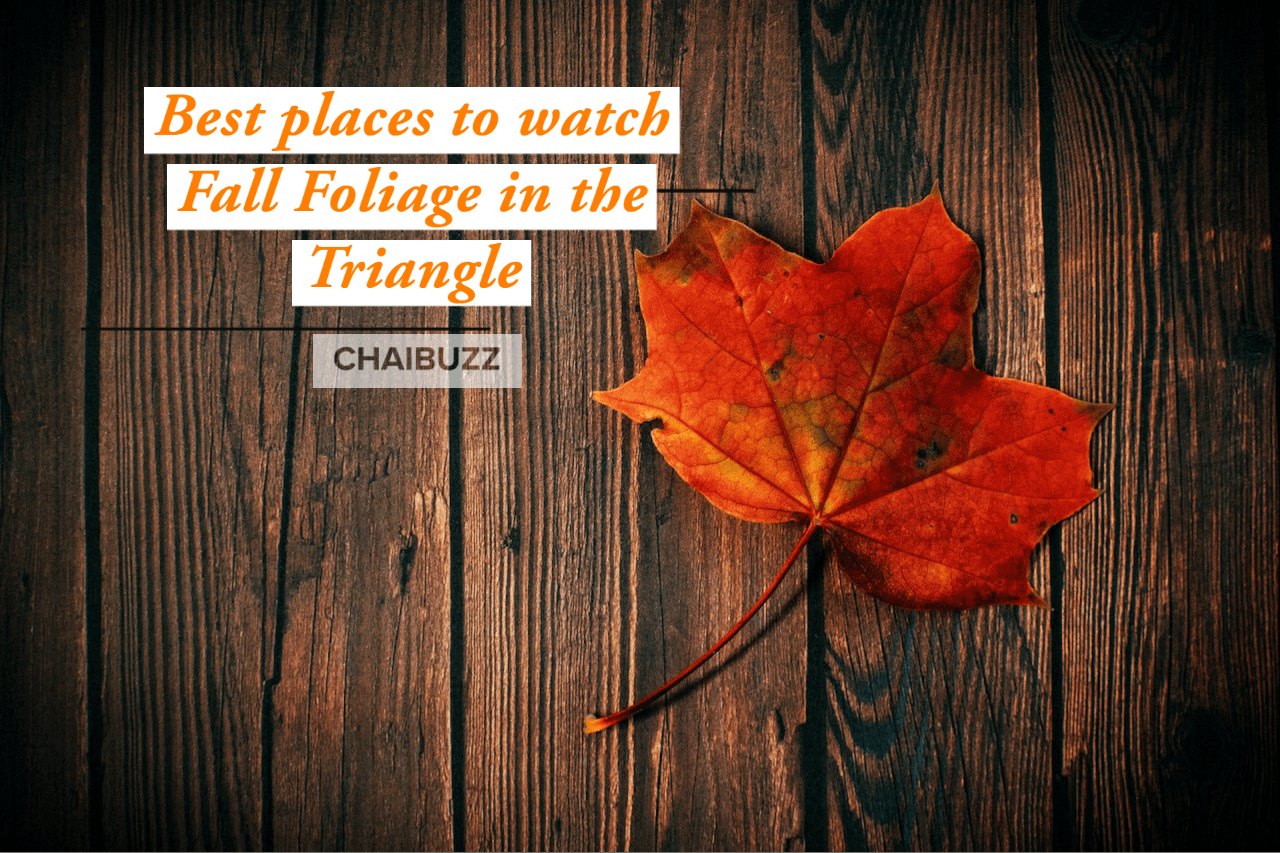 Central North Carolina's fall colors typically start in mid-to-late October (ex. Hanging Rock State Park) and will last through November in the lowest elevations (ex. Eno River State Park).
There are many places to see fall foliage in the City of Oaks. Did you know that several local trails are part of the larger Mountains-to-Sea network. Here are some of our favorites:
William B. Umstead State Park - Raleigh near Glenwood Avenue

This is one of N.C.'s most-visited state parks, William B. Umstead State Park. It remains a top-choice and peaceful getaway for nature lovers thanks to its sheer size—more than 5,000 acres of forest, trails and lakes. With 13 miles of multi-use trails that follow a series of rolling hills and 22 miles of dedicated hiking trails, this is a must-hit destination for outdoor enthusiasts.

Eno River State Park - Durham and Orange Counties

We are huge fans of Eno River State Park. This state park may seem overwhelming at first, with it's 17 designated state park trails and handful of access points. The park boasts 30-plus miles of trails. Cox Mountain Trail (3.75 miles roundtrip), Cole Mill (1-mile roundtrip), and Buckquarter Creek (1.5 miles) are a few of our favorite Eno trails. If the weather is still warm in early fall, you can head to Cox Mountain or Few's Ford to dip your feet in the river.

MD Nature Preserve - Raleigh

This 157-acre outdoor retreat opened in 2006 as the City of Raleigh's first designated nature preserve. The preserve's open fields and two miles of hiking trails meander between meadows, through an oak-hickory forest, around a one-acre farm pond and past hidden rock crops, making for easy exploring for the entire family.

Feeling adventurous? The Wilkerson Nature Preserve is a perfect starting spot for a jaunt along the Mountains-to-Sea Trail (MST). MST (also known as "N.C.'s hiking trail"), stretches more than 1000 miles from the Great Smoky Mountains to the Outer Banks. Connecting on the north end of the nature preserve, hikers can follow the white dot markers on trees to take the MST approximately three miles to the Visitor Center near Falls Lake Dam, trekking through a super-varied array of landscapes, plant life and wildlife along the way. The 6 mile round-trip hike from Wilkerson to Falls Lake Dam and back is among the best hikes in the Raleigh area.

Lake Johnson Park - Raleigh near NCSU

This is one more popular hike in the area frequented by North Carolina State University (NCSU) students and professionals. Lake Johnson Park has a dual designation of metro park and nature preserve. The park features a 2.8-mile paved greenway loop, 1.5 miles of unpaved trails which draw a lot of joggers and walkers. Be sure to checkout the 700-foot long boardwalk that cuts directly along the center of the lake.

On the northern end of the lake, the east loop of the trail can connect with the Walnut Creek Greenway which gives you access to North Carolina State University's Centennial Campus (two miles away), Dorothea Dix Park (3.5 miles), downtown Raleigh (five miles) and the Neuse River Greenway Trail (13 miles)—lots of great options for more exploring!

Durant Nature Preserve - North Raleigh

This 237-acre nature preserve offers 5 miles of lesser-trafficked, mostly unpaved hiking trails that loop through heavily wooded areas around two lakes in the center of the park (not challenging terrain, but one of our top choices for peaceful outdoor exploring). Dog- and kid-friendly, portions of the trails are also open to mountain bikes.

Hemlock Bluffs Nature Park - Cary

This 140-acre park is home to well-kept trails. What's unique about Hemlock Bluffs is it's trees which don't typically belong to Central North Carolina. Instead you will find trees from Western North Carolina which thrive in the mountains. There are 4 recognized trails:

Swift Creek Loop Trail (0.8 miles)
Chestnut Oak Loop Trail (1.2 miles)
Beech Tree Cove Trail (0.9 miles). This one is stroller-accessible.
West Hemlock Overlook (0.7 miles)

Occoneechee Mountain State Natural Area - Hillborough/Chapel Hill

Head to Hillsborough if trails winding through rhododendron thickets and high points in a riverside forest excite you. Start at the Occoneechee Mountain State Natural Area for a fall picnic under the oaks and take in the beauty of the Eno River bank. If you're looking for the view to beat all views (and we know you are!), you can hike either the Brown Elfin Knob or Overlook Trails, depending on desired difficulty. While you are there, Hillsborough downtown is a place to see in the fall with its myriad of deciduous trees.

The North Carolina Botanical Garden - UNC Chapel Hill Campus

Located on the UNC Chapel Hill campus, the North Carolina Botanical Garden is home to amazing sights year-round, but you'll fall all over yourself during this beautiful season! Changing leaves and autumn perennials make this location perfect for a picturesque walk. It also makes for a beautiful backdrop for their annual Sculpture in the Garden which runs through early December.

Johnston Mill Nature Preserve

Location: 2713 Mt. Sinai Rd., Chapel Hill, NC 27514

This 296-acre park in Orange county boasts trees that are 150 years old. This preserve boasts trails that stretch about 3.5 miles. The short trail is sure to pack a lot of scenery, while you enjoy the relative peace and quiet surroundings.

Neuse River Trail

The Neuse River Trail is a 10-foot wide asphalt path extending 28 miles from Falls Lake Dam to the Wake County line. The Neuse River Greenway Trail offers scenic views of the Neuse River, winding boardwalk areas through wetlands, historical sights, interpretive signs, and agricultural fields. It's part of the City's Capital Area Greenway System, and a segment of the Mountains-to-Sea Trail.

American Tobacco Trail

This 22-mile stretch is widely popular with joggers, bicyclists and walkers alike for it's well paved surface and convenient access points. It spans 3 counties and several municipalities. You are sure to watch a good amount of fall foliage as you stroll along this path.