Published on

Sep 23rd 2022
Direct flight from RDU to India: More of a dream than reality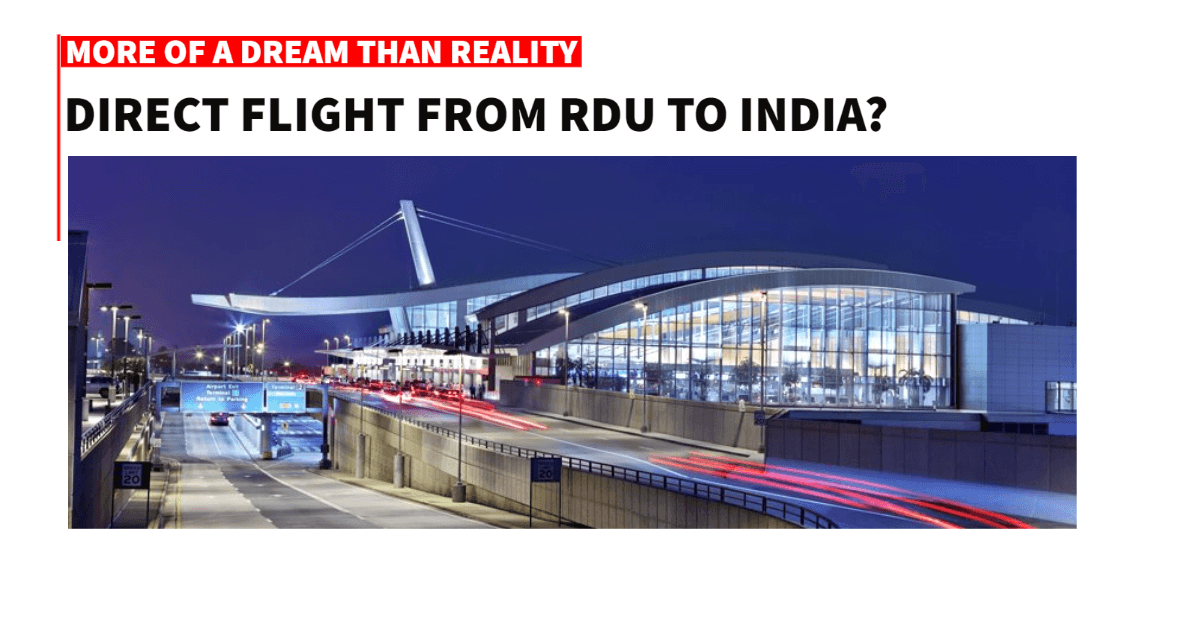 If you got your hopes up about the possibility of boarding a direct flight from RDU to India, you are in for disappointment (at least in the near future). At this point, forget about a direct flight to India; even a non-stop flight to Middle Eastern destinations like Dubai or Abu Dhabi would be a nice-to-have and is a distant goal.
At a townhall meeting with RDU CEO and his staff yesterday (Sep 22, 2022), it was made clear that, the chances of a direct international flight from RDU to India in the near term are next to ZERO. This meeting was hosted by Steve Rao (Morrisville Town Council Member), Ryan Combs (CEO, RTRP Host). NC State Senate Minority whip Jay Chaudhuri and Morrisville council member Satish Garimella provided their opinion/views on this topic and highlighted the importance of having this connectivity.
At the meeting, RDU CEO Michael Landguth and his team presented important statistics that airlines and airport authorities look for when adding new airlines or service routes.
Per the statistics provided by RDU authorities during their talk, currently there are only 75 people traveling daily (average per 2019 statistics) from RDU to India. Wide bodied aircraft needed for long distance destinations like those in the middle-east (Dubai, Abu-Dhabi or Doha) need at least 275 passengers in order for the project to be viable. Our opinion is that these statistics are way off.
Important feedback from community
Amar Solasa, a resident of the Triangle area has recently created and shared a survey that is widely circulated through Whatsapp and Facebook groups. The statistics that he shared as part of the public feedback, were well received.
NOTE: This is a general survey and the number of responses could be more skewed towards some regions over other. But we can learn a lot from such surveys. Here are the key takeaways from his slides that were shared with Michael Landguth, RDU CEO.
This survey has more than 4500 responses. 20856 people travel to India and surrounding countries on a yearly basis. This is just from the survey and doesn't cover all those people that the survey couldn't reach. The survey sample dataset represent ~25% total population.
Majority of respondents travel once a year.
Hyderabad is the No.1 destination for passengers in India. This is contrary to the data shown in RDU authority's presentation. The following could play a role in why Hyderabad route is underserved: HYD – LHR – arrives in London at 12:40 and LHR to RDU leaves at 12:05PM. This makes it impossible to use LHR-RDU
If we can have a direct flight from RDU to Dubai/Doha, it would give the Asian community direct access to many destinations/hometowns (India, Nepal, Pakistan, Bangladesh, and Sri Lanka)
Consider a direct flight to one of the destinations DXB, DOH, AUH. Emirates, Qatar, and Etihad have well-established routes to many Indian cities and other countries
ChaiBuzz's opinion:
Missing data: There are so many passengers that travel to IAD or Atlanta or New York just so that they can do a one-stop journey. This eliminates the odds of getting stuck in airport and the return journey is much more palatable. Even if pull in credit card data of purchases, We don't always book tickets through the airlines website. There are so many people that book tickets through travel agents. So a big chunk of data is missing.
Business/Leisure: The typical traveler to India is neither going for business or leisure. While it's convenient to think that we are there for leisure, the reality is that going to visit family isn't the same as going to a beach vacation. While the former results in a much more sustainable and consistent traffic, the later is more reliant on seasons and trends.
RDU as a vacation destination: On a daily basis so many parents/relatives from India come to the triangle and surrounding areas.
Solve the problem: Door to door (from our home in US to the one in India), majority of these passengers have a travel duration of 28-32 hours each way. Not everyone is traveling to a metropolitan area. 60% of population in India still lives in suburbs, small towns or rural in natures.
Collective strength: Today RDU and CLT together have more than 150 passengers to India on a daily basis. We don't even stats on how many people travel to destinations around India like Pakistan, Sri Lanka, Bangladesh, Nepal, Bhutan. If a flight to middle-east hub like Dubai or Abu-Dhabi is planned, all these passengers would be boarding the same route. If we assume that there would be about 75 passengers (very conservative estimate from all these countries together), we have more than 225 people ready to board a flight to Dubai or Abu-Dhabi on a daily basis.
Pie is bigger: The population of Indian ancestry/origin from the Triangle has increased significantly during the pandemic.
Growth story: This could augment the already booming Triangle economy. In the recent years, so many companies have moved to North Carolina. Instead of so many people booking hotels near airports like IAD in Washington D.C, some of those passengers would come to RDU airport. This would benefit our hotels and restaurants.
If you are wondering how the current direct flights to Paris, London, Mexico, Canada, Reykjavik, work while the passenger numbers do not justify direct flights to India, the answer is kind of long
For tourist destinations like Mexico and Reykjavik: Tourist destinations rely on travelers. So the local government and businesses there provide enough incentives to make projects like this viable.
Delta flight to Paris and American airlines flight to London: These were made feasible by community and business leaders here providing significant incentives and guarantees (advance booking of tickets, providing millions of dollars in incentives and minimum revenue guarantee).
This could be the start of years long effort and push from the community. This is similar to immigration in a way. There are lot of parties involved. The money, advocacy and reaching out to the right people could play a big role in how soon RDU gets this service. For now, what's RDU's loss is someone else's gain. Until we get such a service, get comfortable driving and car-pooling to IAD airport for that next flight to India.