Published on

Feb 14th 2022
Nutrition filled quick overnight Oats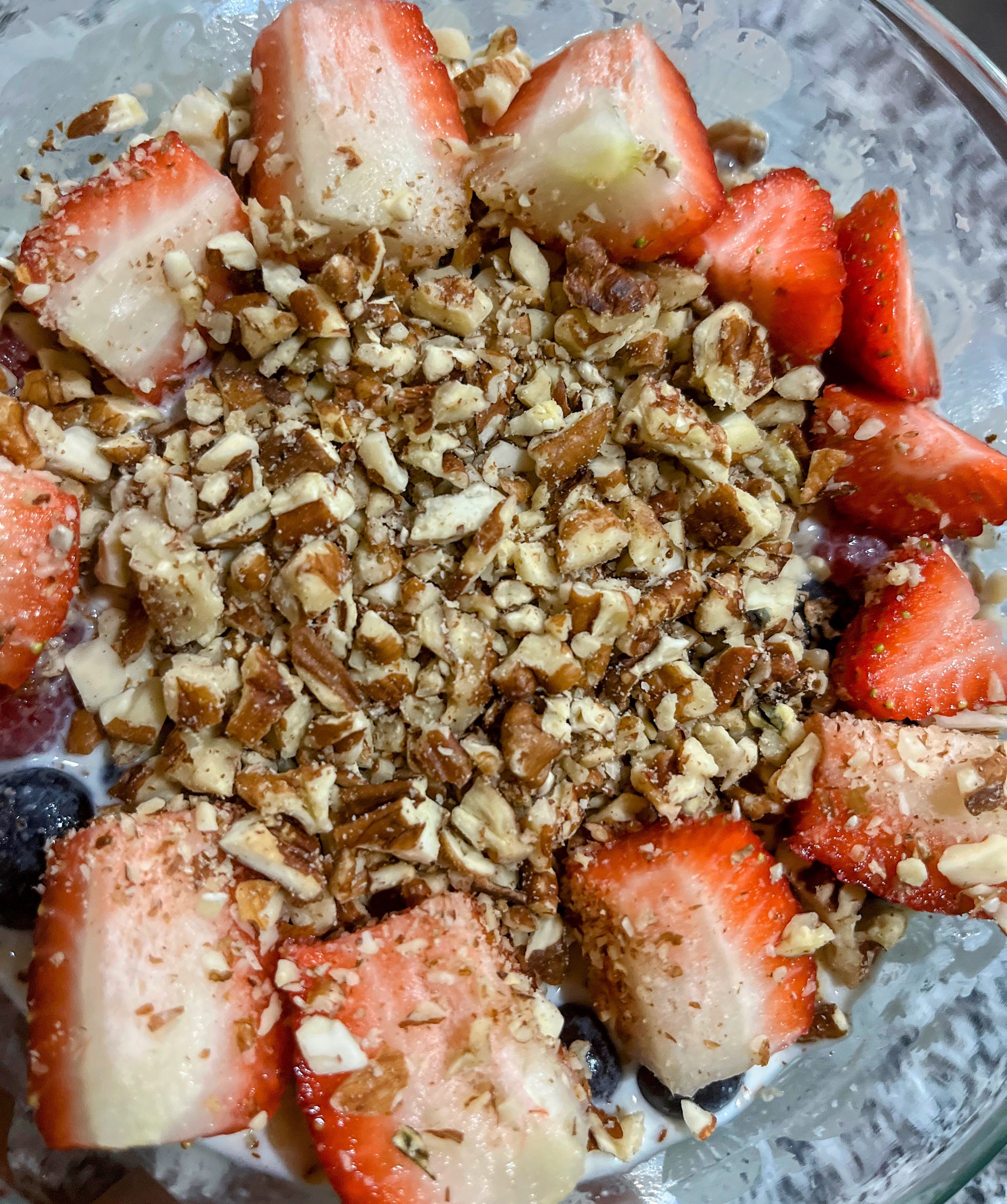 Preparation Time 5-10 mins
Ingredients
| Measure | Ingredient | Nutrition |
| --- | --- | --- |
| 3/4 Cup | Old fashioned Oats | Carbs, Rich in fiber |
| 1 TBSP | Flax Seeds | Omega-3 and fatty acids |
| 1 TBSP | Chia Seeds | Calcium, fiber and anti-oxidants |
| 1/4 cup | Plain whole milk curd | Probiotics, Vitamins and minerals |
| 3/4 to 1 cup | Whole milk based on the required consistency | Calcium, Ptassium, Vitamin A |
| 3-4 | Dates | Copper, Selenium and Magnesium |
| 1 | Ripe Banana | Potassium and Fiber |
| 1 cup | Berries(Blueberries, Rasberries) | Vitamin K, Antioxidants |
| 10-15 | Chopped Nuts (Peacons, Almonds) | Vitamin A, E, Magnesium and saturated fats |
Method
Provided some customization tips to adjust to your taste.
In a bowl mix Oats, Flax and Chia Seeds
Then add thick yogurt and Milk
I prefer whole milk for extra nutrition so that I can have the same breakfast for my 8 year old. But you can replace with greek yogurt, 2% MIlk or Almond milk.
Add chopped dates
For extra sweetness you can add Honey or Maple Syrup (Optional, you can add these ingrediants before serving too)
Add small pieces of ripe banana.
This is the base fruit, we can also use Red apples or Green apples.
Add berries and gently press down the berries (Blue and Rasberries) and Cut Strawberries
You can add any berries that you have. You can add more or less based on your taste. You can add cranberries or Rasins or any dry fruits that are handy for you in the pantry
Finally top your bowl with crushed/chopped nuts
This is optional. I used a small hand blender for chopping the nuts and keep them ready for the week. This adds crunchiness to your bowl. Based on your taste you can add more or less. In general the peacons and almonds blend well. You can add these next day before serving too if you need more crunchiness.
:-) Let it sit in the refrigerator overnight or for 6-8 hours and Here you go!

"Bon Appetite"
Serving Tips: Add more milk for the required consistency.
Add a spoon of Maple Syrup if more sweetness is required.
You can add chopped nuts just before serving as per your taste.
By Tulasi Krishna Kantamneni