Published on

May 24th 2022
Don't miss NuvYug India Fest 2022 - 2 day summer fun event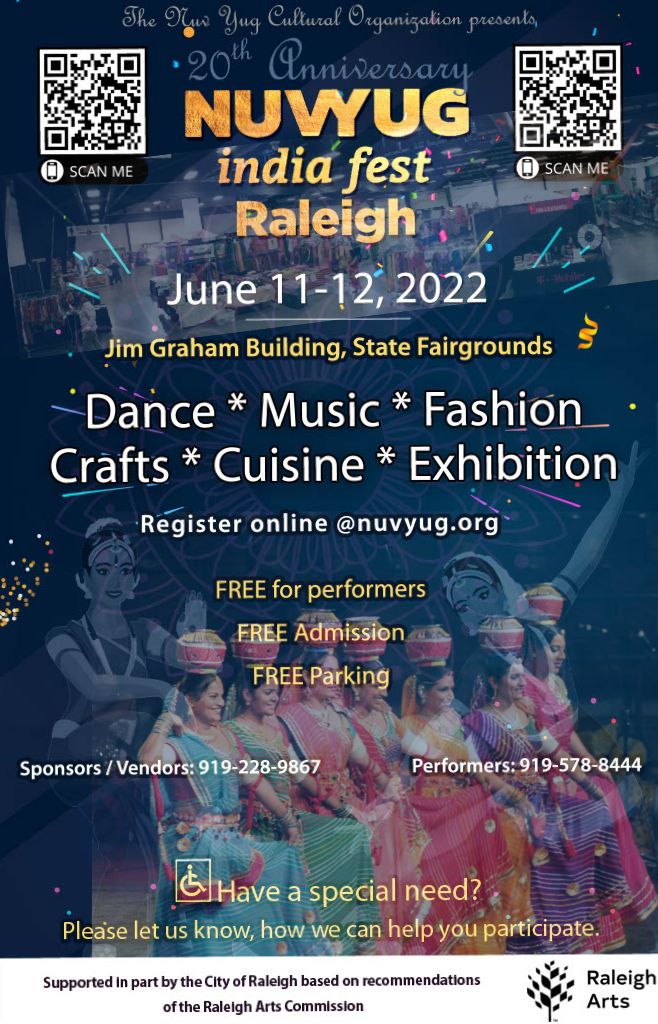 If you are new to Raleigh or look forward to attend an in-person event this summer, NuvYug India Fest should be at the top of your list.
When: June 11-12
Where: Jim Graham Bldg at State Fairgrounds, 1025 Blue Ridge Road , Raleigh, NC 27607
What to expect: IN DOOR EVENT. Food, Shopping and Fun. Non-stop dance performances from 11AM - 8PM. From Bollywood to Classical Dance, this event has it all.
Schedule: Click here
NOTE: This is an IN DOOR EVENT. So you don't have to be worried about Mr. Sun or Ms. Rain!
About NuvYug
The Hindi phrase "Nuv Yug" means "new era" or "new generation".
Nuv Yug is a non-profit organization with a mission to promote awareness of Indian Cultural Arts. Over the years, NuvYug has developed a reputation for producing high quality programs that offer a unique cultural exchange opportunity to citizens of Raleigh and surrounding areas.
Since 2003, their flagship event India Fest has been organized with support from City of Raleigh Arts Commission and many other organizations and individuals. The event attracts over 1500 stage performers, who present almost 150 dance and music items during the festival. Vendors showcase their crafts and products. And the area's top restaurants offer famous Indian delicacies to visitors.
If you are interested in volunteering for this community event,
click here
. Any one 14 years or older are eligible. All volunteers are eligible to receive a certificate for their work upon request.